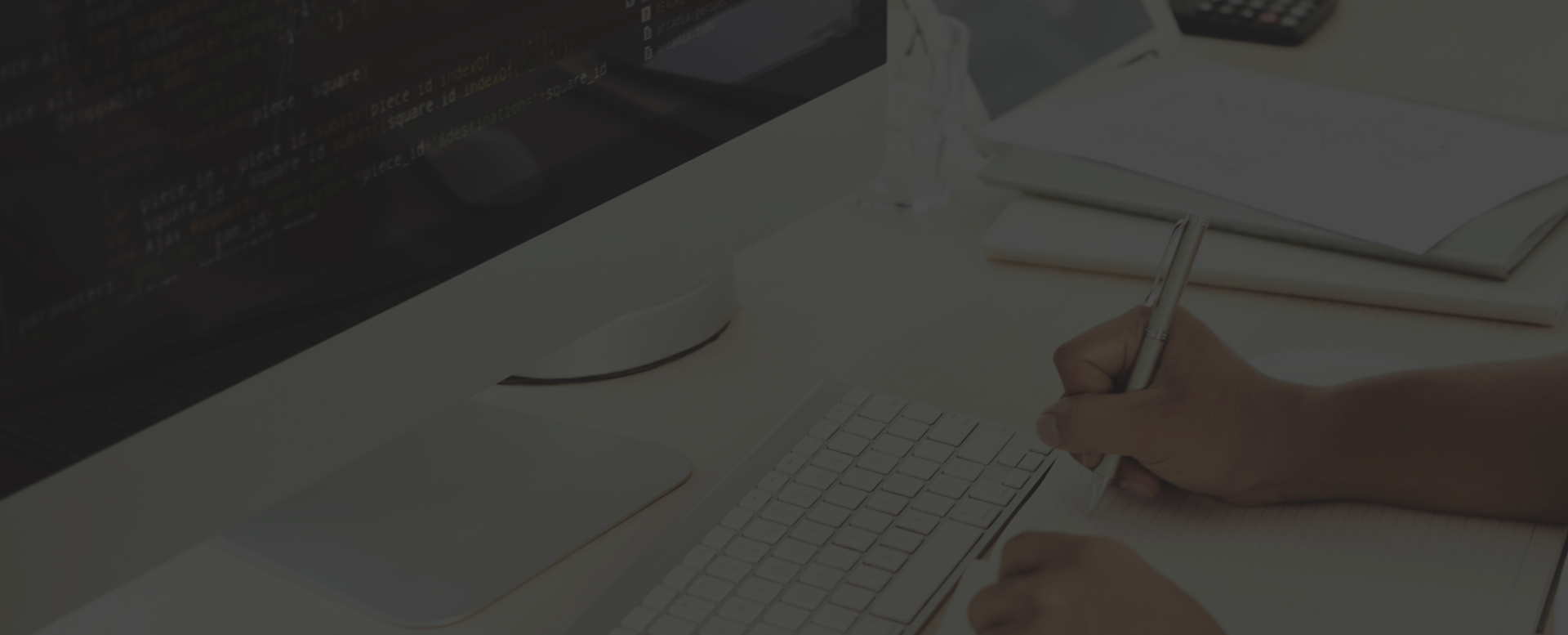 Quality Assurance Services
Quality assurance (QA) is a critical stage in any software development project at PieSoft. Before being released, your IT product passes through multiple testing procedures to ensure it corresponds to your needs and the end-user expectations. We identify software quality assurance as one of our core competencies and provide services for the most complex on-premise or cloud solutions. Entrusting QA to our outsourcing specialists, you enable your app, website, or platform to work exactly as your customers expect and according to the automation level required for every release.
As a third-party provider, we implement automated, manual, and integrated quality assurance services for a comprehensive IT performance improvement. We guarantee that the development and maintenance processes are running correctly and give you valuable insights into improving your product.
WHY PIESOFT QA OUTSOURCING
01
Advanced transparency
As a provider of quality assurance outsourcing services, we understand how vital it is to establish maximum transparency in our cooperation with a client. Let's examine how we achieve that.
Establish the testing life cycle and deadlines
Provide detailed reports of every testing stage
Comply with ISO standards to ensure data protection
Use KPI-based evaluation to meet your requirements
02
Regulatory compliance
Third-party quality assurance is your best way to keep the product updated with the latest industry-specific regulations and policies. Our professionals stay flexible with the changing environment by constantly upgrading their QA skills and staying abreast of the industry-specific regulatory modifications. Therefore, with PieSoft, you can rest assured that your product is comprehensively tested for compliance with the standards with no extra effort from your side.
03
Diverse industry expertise
Drawing on our vast experience in various business domains, PieSoft obtains top-class quality assurance and performance improvement according to the specifics of your field. We work with the following business areas:
Healthcare and pharmacy
Education and entertainment
Enterprise and retail
Logistics and manufacturing
Finance and banking
Travel, food, and hospitality
OUR PRODUCT-SPECIFIC QA EXPERTISE
Our quality assurance specialists have almost 10 years of experience testing diverse IT solutions, bringing benefits to companies from various business industries.
Microservices-based software

Manual Testing
For smaller products with complex user scenarios, manual testing is vital to ensure the application does not contain any critical bugs. Relying on our human capabilities and resources, we establish the best user experience and audit for your software solution.
PieSoft offers manual quality assurance services across industry verticals, focusing on UI/UX design. We apply various methodologies, structured processes, and best practices to rationalize the testing spend and find defects early in the life cycle.
MANUAL TESTING METHODS WE USE
IT quality assurance
To focus on the IT environment, we run system testing, system integration and regression testing, and end-to-end & data migration testing.
Business-focused quality assurance
We cover user acceptance testing and customer experience assurance, targeting your business requirements.
BI software quality assurance
In this case, we involve data acquisition testing, staging data evaluation, ETL testing, reports testing, and end-to-end testing.
Website quality assurance
We apply user journey and user perspective testing methods to explore how visitors perceive your website in terms of usability and functionality.
Advantages of Manual Approach
01
Reliable user perspective
Manual testing allows us to examine software design and create a full-fledged path the user takes. Thus, we evaluate the user-friendliness and features of your app or website and provide observations on enhancing the user experience.
02
Versatility and flexibility
Using human resources, we add creativity and agility to the testing. Unlike automated scripts, quality assurance specialists can notice details that were not set out and quickly run tests on the upgraded function.
03
Focus on your goals
Individually collaborating with a client, we dive deep into their domain particulars and business objectives. Based on that, we not only apply the technological tools but also our intuition to reconcile the software performance with your unique challenges.
Maintain the highest standards of quality with our experts
Bring PieSoft QA best practices to establish a seamless user experience for your software solution and promptly solve usability and functionality issues before your product hits the market.

Automated Testing
Automated quality assurance is well suited for testing repeating operations and dealing with voluminous data on large projects. This approach includes many different QA strategies, ranging from isolated code correctness checks to simulating a whole human-driven manual testing experience.
Quality assurance automation allows our experts to work on cross-platformed multifunctional products, achieving results quicker and more efficiently.
Automated Testing Appoaches We Use
Data-driven testing
This methodology allows automation engineers to have a single test script that executes tests for multiple scenarios, using all the existing data.
Keyword-driven testing
The technique relies on describing test cases using a predefined set of keywords that imply actions and is suitable for small applications.
Behavior-driven testing
Using this method, we test system behavior by creating a challenging environment to achieve a seamless operational flow.
Modular-driven testing
We decompose the software into modules to maintain the process easier and review every test script individually.
Test-driven development
Focusing on production code, our QA experts create test scripts for every software feature to evaluate and endorse its performance.
Advantages of Automated Method
01
Cost reduction
Due to the speed of test execution and reusability of the test code, quality assurance automation leads to considerable cost reduction in the long-term run.
02
Time savings
Quality assurance automation allows us to launch tests at any time and/or simultaneously run them on several platforms, providing you with quicker and more proactive decisions.
03
Accurate results
To err is human. A testing engineer can run some of the tests inconsiderately, whereas a robot sticks to an adopted plan, processing large amounts of data concurrently.
Boost efficiency by ensuring the impeccable quality 
Intrust your software development to our experienced QA engineers and work together towards the goal of creating top-notch products that ensure smooth performance and flawless usability.

Integrated Approach
Automation testing is more reliable and drastically reduces testing time, but it could not be a substitute for human intuition and vision. To approach the testing process holistically, we pursue applying both manual and automated quality assurance services to ensure your application is in perfect shape.
Employing best practices and frameworks of these approaches together, our professionals achieve the top quality in software, website, or cloud quality assurance.
Integrated Approach Life Cycle
1. Determine the scope of the test case
2. Define the test management strategy
3. Implement manual testing methods
4. Apply perfectly matched automation tools
5. Run exploratory tests to build new test cases
6. Maintain and monitor the testing life cycle
PieSoft QA Services

Quality Assessment
It is crucial to implement quality assurance and performance improvement strategies from the earliest development stages. But, if you're in a "right here and now" situation, PieSoft experts are always ready to jump into the process and promptly perform a quality assessment for you to release the seamlessly working product. At this stage, we check your compliance with regulations and software security, provide code audits and evaluate the overall performance.

Quality Assurance Consulting
We offer full-fledged quality assurance consulting services – from building a comprehensive QA strategy for a productive start to providing ongoing support to your software solutions. Our consulting can include setup, audit, and enhancement of the QA process, continuous testing integration, and specific QA bottlenecks addressing. Our quality assurance specialists introduce you to effective methodologies, advise on optimizing testing costs, and enable the highest project transparency.

Quality Assurance Outsourcing
With PieSoft IT quality assurance, you can implement end-to-end testing to ensure outstanding quality for your software or focus on the issues you find the most concerning. Reviewing your business objectives, we provide you with professionals experienced in your industry and technological needs. Whatever way you want to collaborate with us – augmenting your in-house team, working with our dedicated team, or launching one-time testing, you gain a tailored approach and predictable costs.
Ensure top-class quality for your products with PieSoft
Elevate the quality of your products to stand out in the market. With our quality assurance specialists, you can enhance any software, website, or cloud system by developing significant performance improvements.
Contact our expert and get assistance in perfecting your IT solution.
OUR HEADQUARTERS
We are open to new challenges and we'd love to learn more about your project.
Find us in the USA
Find us in Europe