Startup Solutions Development
We help test ideas quickly and within budget — applying analytical and technical expertise.
WHY DOING IT ALONE CAN BE RISKY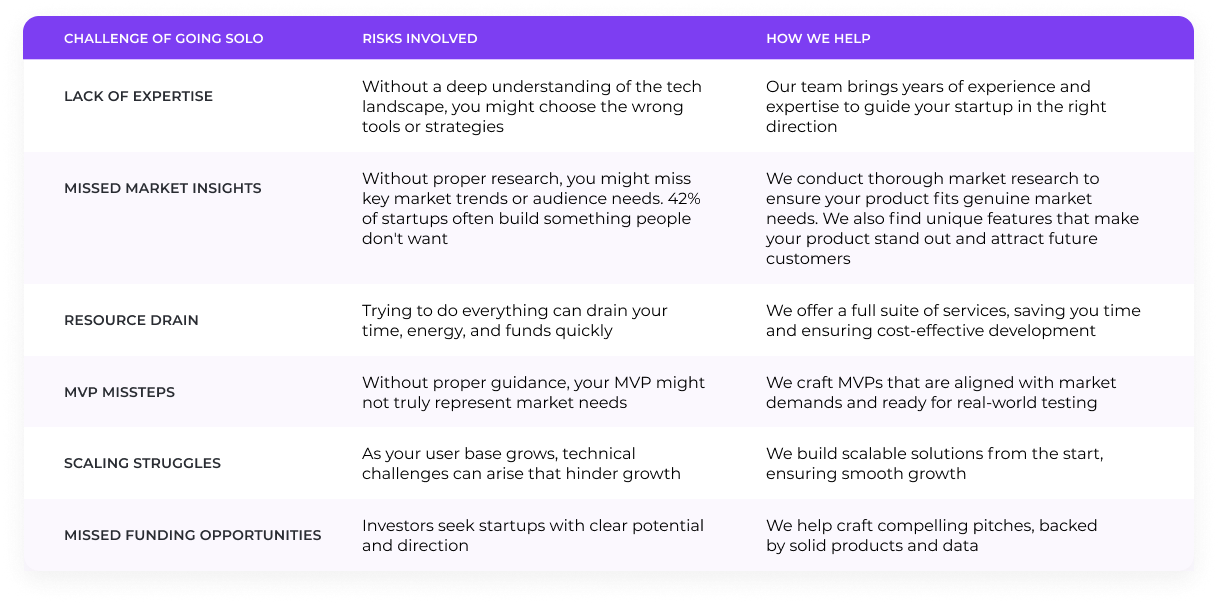 WHY MVP?
Been thinking about launching an MVP but can't quite decide? Here are the benefits of an MVP that might help you make the right call.

Test the Waters
An MVP lets you try out your idea with minimal costs. With an MVP, it's easier to adapt the product to the changing needs of users.

Save on Budget
Creating an MVP reduces the cost of developing the final product: you don't have to pay for all features at once. Launch first, refine later.

Catch Investor Interest
With an MVP, you're not just talking; you're showing. A tangible product can pique investor interest and make them more likely to invest in your vision.
Order a Free IT Consultation
What Happens Next:
1. An expert will contact you to discuss your needs.
2. If required, we will sign an NDA to protect privacy.
3. We will submit a proposal with estimates, timelines, and team details.
Our goal is to fully understand your project, meet your needs, and provide excellent service. Please let us know if you have any other questions!
We've got a robust crew of experts, so chances are, we've got the tech stack you're after. Got questions? Give us a shout
OUR HEADQUARTERS
We are open to new challenging tasks and we'd love to learn more about your project.
Contact Us

Сontact Us in Europe