Whether you are a large-enterprise owner or a startup founder – building an IT project from scratch and employing top-notch engineers is challenging. However, it is much harder for a startup to find the best place to hire developers for a project. Do you need a talented team of professionals, but don't know how to start searching for your ideal candidates? In today's article, we briefly review three main ways to hire developers for a startup, take a closer look at our area of expertise – dedicated teams, and give you some tips on how to hire developers online like a pro being a startup owner.
Three ways to hire developers for a project development
Contract professional freelance specialists
Build up an in-house team of developers
Outsource the development to the dedicated team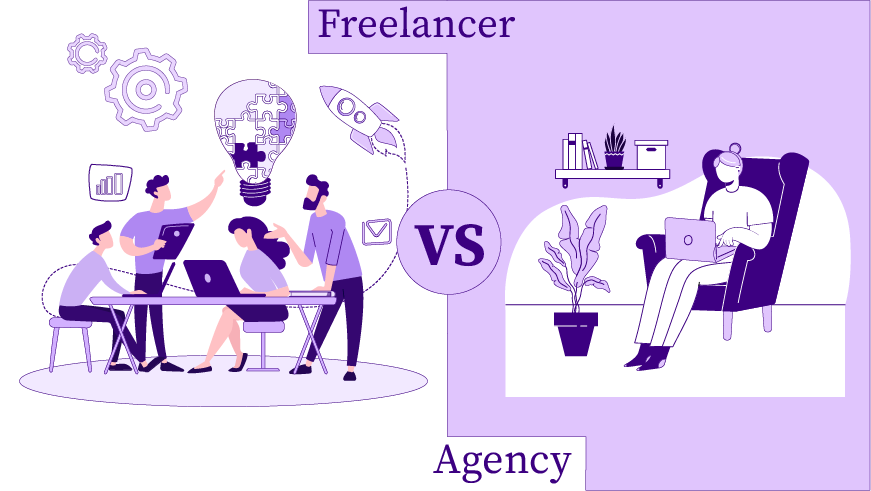 Freelancers
A talented freelancer can be a good choice for your startup if you know what you need and how you want to implement it. Submitting the budget, you can research the popular freelance platforms, find the best place to hire developers, and contact a reliable professional skilled in the technologies you need for your project development. However, hiring freelancers can be tricky in terms of teamwork and communication. Meeting your technical needs, freelancers often lack passion for the product they build and usually do not dive deep into the specifics of your business domain and requirements.
In-house teams
An in-house team is a go-to option for an enterprise with a solid funding base and extensive expertise. A long-term commitment with their developers allows the company to strengthen the internal relationship and build up the team with the intended culture and high productivity.
Although, an in-house team for a startup can be a real resource drain. Starting a business, you might need time to gain experience and define your demands and opportunities. Hiring the whole team of experts without a stable financial and cultural foundation, you risk constantly rebuilding your in-house team, thus wasting time and money.
Dedicated teams
With an outsourcing option, you get the most stable and cost-effective development for your startup. Dedicated teams precisely engineer large-scale and complex projects, handling all your workflow specifics, eliminating excessive concerns, and reducing time to market.
In-house and dedicated teams represent a similar model except for one critical difference. Relying on your in-house team, you remain ultimately responsible for the development and administrative system. Choosing the dedicated team model enables you to outsource HR, tax, policy, and other organizational issues to a reliable third-party company while concentrating on what you know best – your business. In this scenario, you guide the software development process directly or through a representative.
PieSoft, as an outsourcing company, has ten years of experience helping startups build IT projects. Cooperate with our software development experts and we will find you the best professional match for your startup, selecting the specialists with the required expertise, skill stack, and business domain knowledge.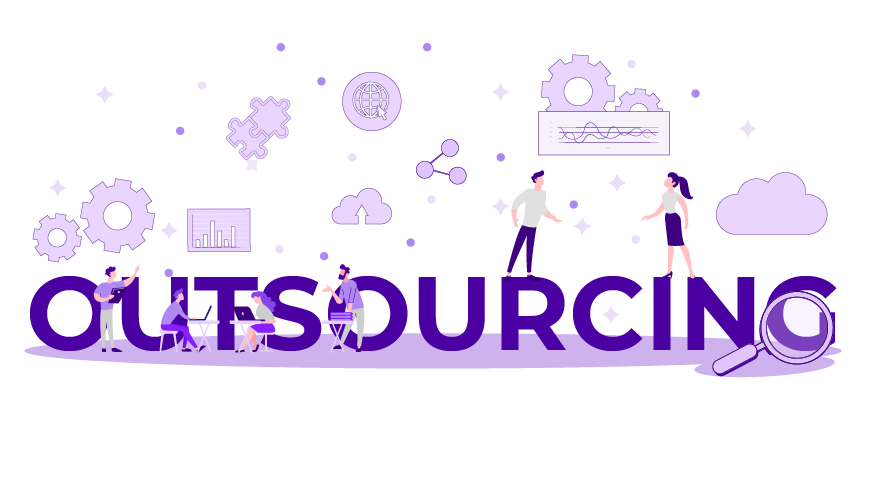 Why you need an outsourcing company to hire developers
Let's review the principal cases when and why your startup might need to hire a dedicated team.
Early-stage startups
Beginning startup businesses require an effective development process with minimized possible time to market. By cooperating with an outsourcing company, you can be sure that your team will be built and scaled quickly, so you can save money and develop a product faster.
Projects with vague requirements
Indefinite requirements are the first thing to spoil your project development. Your perfect solution is an outsourcing company that helps define your demands, business needs, and opportunities. A dedicated team goes with you from the discovery stage and requirements gathering to the accurate technical implementation of your product.
Long-term projects
If you want to hire developers online to provide you with long-term support, a dedicated team is your choice. Building large-scale complex projects with expansion opportunities is a long road that requires mutual trust and strong engagement, which are the specifics of outsourcing specialists. When you hire developers for a project, you can easily entrust the process to professionals who complete the project under your guidance without bothering you with tech details.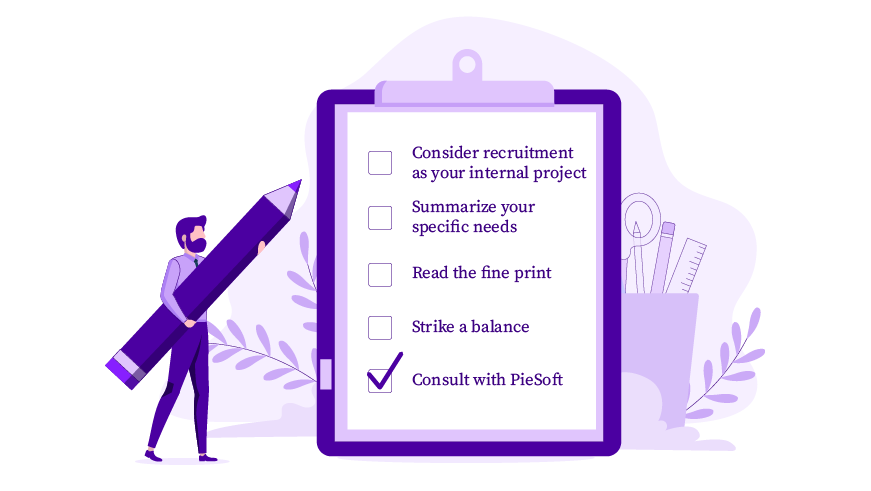 We broke down the main points on how to hire developers online with minimum issues. Now, let us give you some tips on choosing your project engineers efficiently, with no risks and failures.
Things to consider when you hire developers for a project
Consider recruitment as your internal project
First of all, you need to take employment seriously. It is crucial to create workflow frameworks to follow and assets to manage if you want to end up with the right expert or team for your project. By treating the initial recruitment as a vital project, you successfully start and skyrocket the development, allowing the hired specialists to get down to business.
Summarize your specific needs
As an early startup company, you can have an ambiguous vision of your future project development, whereas startups with some gained experience have more explicit requirements for the process. In both cases, we recommend being specific about your project as possible to maximize the ease of the recruiting.
Read the fine print
If you want to challenge your candidates comprehensively – thoroughly review their resumes and CVs. For instance, the technologies listed last in the CV are typically the areas with which the developers are least experienced. Set up a test and include that technology to assess their expertise, seeing how your applicants navigate the skill. If they pass the test successfully, they will most likely excel in any task on your project.
Strike a balance
Selecting specialists with a required skill set is crucial, but consider soft skills when hiring developers. Analytical and critical thinking, time management, and creativity can significantly support more efficient development than a specific tech proficiency that can be quickly improved. If you succeed and hire developers for a startup with balanced soft and hard skills – you will get the key to a smooth collaboration and effective engineering.
Consult with professionals
Choosing your perfect candidates without a tech background may be a real challenge. To eliminate all your worries, you need to address the issues with a professional tech consultant. A technological partner provides you with a clear vision of the needs for a project – programming languages, specializations and experience of the developers, software knowledge, and many more. By assigning tech specifics to professionals, you concentrate on your guidance and enable a seamless development.
Defining project requirements and engineering specifics may be a genuine problem for your startup. And if you're looking for an outsourcing company to hire developers and entrust the process to professionals, search no more –we are here to assist you. Considering PieSoft as your tech partner, you can leave all those worries and tech issues behind. We lead you through every stage of the project development and create a robust product, bringing our best practices to enhance your startup.