The difference between a website and a web portal is perplexing for those just beginning their online adventure. Do these solutions serve different purposes for users and enterprises, or are they simply interchangeable synonyms? Despite being interrelated, websites and web portals are two entirely different systems. Though both types of web solutions have content and interface design similarities, are accessible through browsers, and may have comparable functionality – a web portal has a more complicated organization system than a website. Let's examine the differences in how they work, look at the examples, and figure out what suits your business better – a website or a web portal.
Website
What is a website? It is the most popular web solution that hosts multiple pages with website content for a broad online audience. Nowadays, you can find websites covering numerous topics in any form you can imagine – from news, online magazines, and educational websites to blogs, multimedia platforms, and commercial sites. From the perspective of business, a website is usually a tool that allows the company to promote its digital or physical products and services. Therefore, the critical purpose of the website is to draw online traffic, providing the information in the most user-friendly way possible. For this reason, the website interface is such a crucial part of the development – the business aims to engage a website user through outstanding quality design.
With PieSoft web design professionals, you can build a website with an exceptional user experience and state-of-the-art interfaces. Check out our web design services to learn what we can do to bring your business to the next digital level – and start your journey with us!
Since your website content is supposed to increase brand awareness and attract new users, addressing a broad audience, it does not require your in-house data. Thus, another purpose of building a website instead of a portal is to keep it separate from your internal business systems and third-party integrations, creating website content that represents your mission.
The following case when you might want to stick with a site is if you need to constrain the website organization to basic interactive features. Building a website, you can include a contact form, FAQ section, live chat, content filters, and integrate a few services like analytics or CRM. If it seems insufficient for your business goals – let's move to the enterprise web portals.
Web portal
What is an online web portal? It is the solution with secure access and advanced control. The web portal provides a base of knowledge and services that can adjust to the specific user or group of users. You can include multiple advanced features, such as a private account, analytical dashboards, custom feed, navigation, and many more. Building a secure web portal with various interactive capabilities, you offer the audience a wide range of functionality and a high level of personalization. Therefore, the critical purpose enterprise web portal serves is to upgrade your web page capacity by providing high-end targeted content and experience that varies according to the user role.
Another distinctive feature of a web portal design is complex architecture. You can integrate the internal business systems, e.g., order management, resource and asset management, human resources, and advanced marketing tools. Besides this, an online web portal can be evolved with third-party apps, payment modules, enhanced customer support services, and sophisticated security control. Hence, you can expand your enterprise web portal opportunities however you need, addressing all the requirements and targeting various business goals.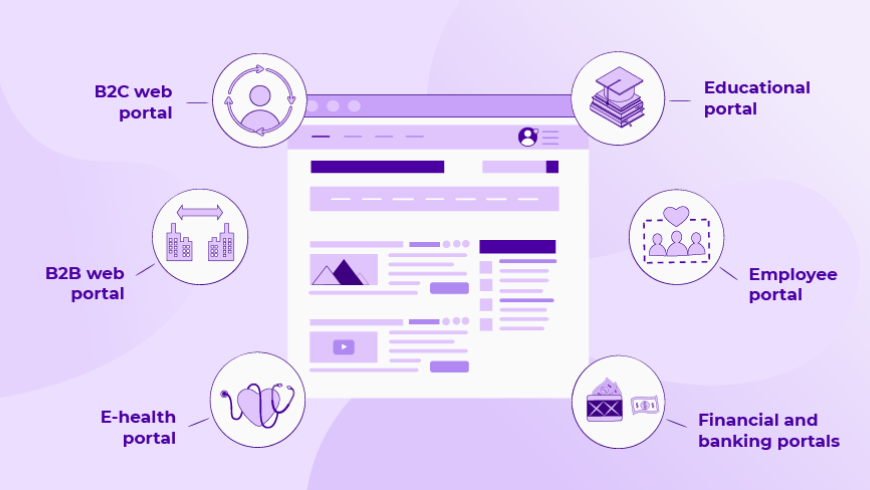 Types of web portals
Let's look at the prevalent web portal examples that meet the needs of different domains and enhance multiple business-to-user relationships.
The typical business-to-customer portal is an e-commerce platform with sophisticated functionality that provides an outstanding user experience. The B2C solution is built to lead the customer through every sales stage, from the first impression to the final purchase.
A business-to-business solution also simplifies the interactions between the seller and buyer, except for B2B web portal users, who are vendors or partners, buy more expensive specialized products and services. Thus, this platform needs enhanced personalization, more attentive support, and advanced self-service tools.
The healthcare web portal is a platform created to improve the doctor-patient relationship and accelerate treatment receiving. The E-health web portal integrates with other internal medical systems, facilitating and automating the workflow for doctors. With e-health, patients can access their health records, communicate with medical workers, book an appointment, renew a prescription, and many more.
Business-to-employee web solutions are usually integrated with multiple business applications and systems to provide a comprehensive experience for the staff. These platforms boost the workflow, allowing employees to have quick access to a schedule, work-related discussions, collaboration tools, and project updates.
Educational platforms keep gaining popularity. Equipped with interactive tasks and multimedia features, they simplify the learning process, transforming traditional ways of education. You can develop e-learning either as an online school or as an employee training system.
Financial and banking portals
The financial web portal provides the finance workers with up-to-date information, data analysis, and the latest news on their specific market. The banking platform, a highly secure web portal, allows bank clients to manage their accounts and finances, make transactions, and access their bank services.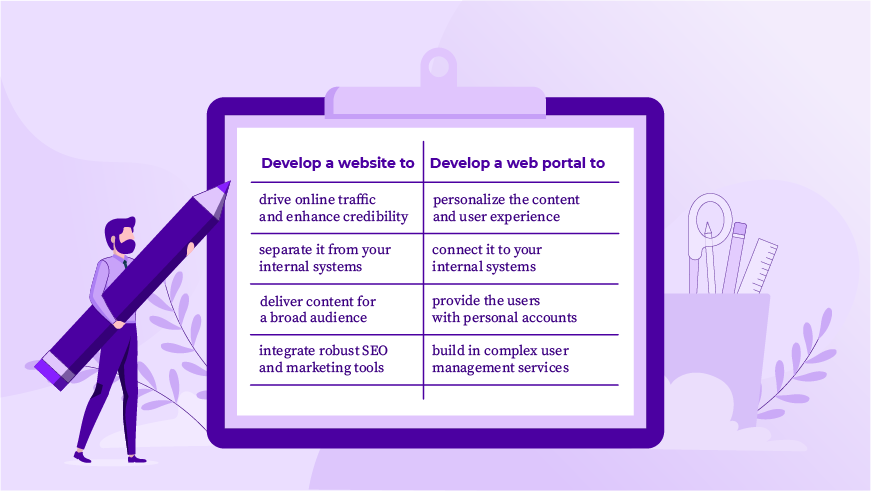 What works best for you?
Top 4 reasons to build a website
Drive online traffic to present your products or services and build credibility
Operate separately from your internal business systems and third-party applications
Deliver and manage content for a broad audience without personalizing the user experience
Integrate robust SEO and marketing tools to increase your visibility and reach potential customers
Top 4 reasons to build a web portal
Personalize content to offer every user a particular set of information
Obtain a secure web solution that will connect to your internal business systems
Identify the users, providing them with personal accounts and adaptive features to target better to your audience
Build in advanced permission control and complex user management services
We reviewed the core differences between the design and content of websites and web portals. With PieSoft, though, you do not need to worry about not being an expert on the subject. Our web development experts examine your requirements, analyze them, and suggest the online solution that perfectly fits your business needs. Enjoy the smooth collaboration with our professional web developers and designers and build a secure web portal or website at PieSoft.