The mobile industry is bigger than ever. Being constantly drawn to the phone, we rely on it more and more – to communicate, organize day-to-day activities, store and analyze vital information, enhance life quality, reduce stress, and simply have fun. According to the Research and Market report, the mobile app development market is continuously growing and is expected to reach $25.8 Billion by 2027, which is 5 times more than the pandemic-driven breakthrough brought in 2020. Needless to say, with such expansion, the market is quite abundant and diverse. However, a good part of mobile apps is the response to global trends, such as the scientific approach to well-being and lifestyle, the ever-growing need for emotional escape, and increased consumerism – they directly affect the mobile app industry. To figure out how general patterns influence mobile app trends and forecast the 2023 tendencies, we delved deep into the market trends in 2022 and examined the current situation. As a result, we created a list of mobile app trends that, in our view, will rule the roost in the upcoming year. Let's get straight to the details!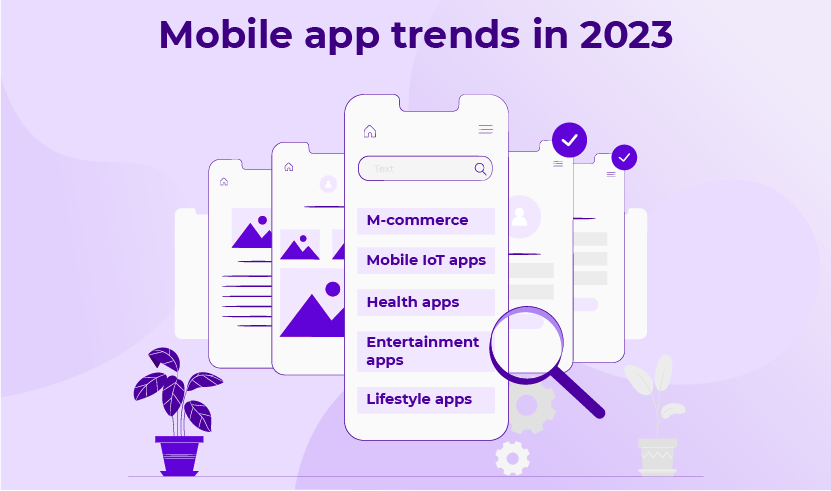 5 mobile app trends to look out for in 2023
M-commerce
All the way from when people got locked down in 2020, m-Commerce has been rapidly expanding, and, according to the forecasts, it will continue to take off. As consumerism increases worldwide, retailers think of new ways to reach their target audience and establish flawless user experience, and here comes the application, which is always at hand. Retail mobile app trends include a variety of m-commerce – mobile banking, shopping, delivery, ticketing, and payment systems, – everything you need to make an instant purchase. Smallest to largest companies opt for their own app, using the most innovative technologies, such as Augmented Reality, AI, and Machine learning, to stand out and provide top-notch customer experience.
Mobile IoT apps
IoT can significantly improve day-to-day chores and activities by bringing flexibility and inclusivity. Integrating innovative technologies into routines is one of the current mobile app trends and a critical worldwide tendency emerging in the last decade and gaining momentum. Mobile IoT apps focus on making everyday life more efficient at all levels – from healthcare and smart home for ensuring personal comfort to the smart city for reducing waste and effectively utilizing resources. Therefore, mobile app trends in 2023 go beyond individual amenities and impact global problems, increasing one's lifestyle sustainability.
Health and wellness applications
If we've learned anything over the last three years, it's that we need to take better care of our health. Against this context, the reliance on the scientific approach to healthcare and well-being has grown, and more people have started praising the modern self-care culture. You can control your sleep, nutrition, and fitness right from an app and get valuable insights on improving your wellness according to your unique data. Health apps are developed using AI and machine learning technologies that allow working with large amounts of data and enhance your personal user experience every time you interact with the app.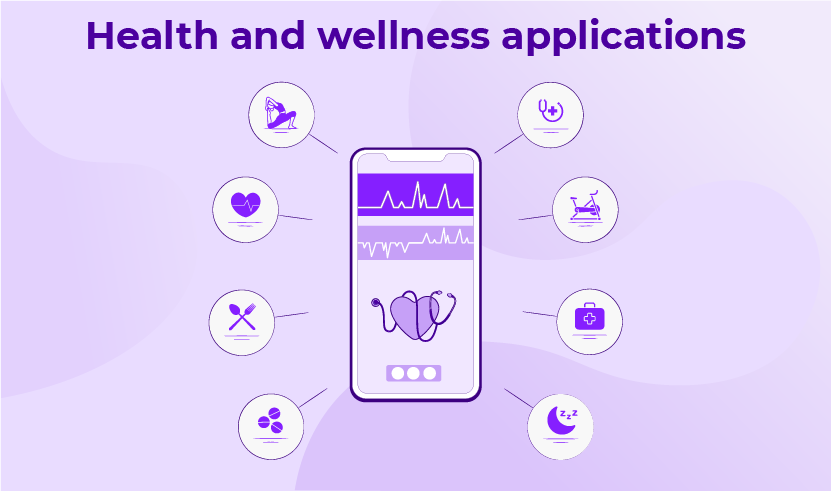 As for the fundamental healthcare mobile app trends, there is a wide field of applications for wearables that are game-changing solutions for patients with critical conditions and overloaded with work doctors. High-tech wearables are indispensable for patient rehabilitation, diagnostics, and chronic disease treatment. The app allows patients to constantly monitor their vitals and rapidly react in emergency situations. Meanwhile, the health-tracking devices are connected with the doctors' monitoring and analytical apps to quickly summon help during a medical crisis. Such breakthroughs help people control their condition 24/7 and prevent risks rather than suffer consequences.
Entertainment apps, games
The entertainment industry is the biggest part of mobile app market trends, and it's represented by various book and movie apps, streaming services, and the core of entertainment – games. The current number of active mobile gamers is over 2.2 billion. Any user can find something to their liking – from primitive time killers and puzzles to simulations and story-driven complex games. The users' acute need for reducing stress in the modern world and smartphone availability made mobile games an ultimate choice when one needs to relax quickly and efficiently. Therefore, relying on gaming popularity, more and more games are being released every year. And the most successful games among this variety are the ones that utilize the latest and most reliable technologies, such as AI, AR, and Big Data, effectively supplementing them with impeccable UI/UX design that people love.
Lifestyle applications
Lifestyle apps seem to be an everlasting trend – users love highly personalized and optimized content, whether it be music preferences, sets of textual and visual info, or simply adjusted interfaces that fit their needs. Together with our experts, we identified a list of six mobile lifestyle app trends that will thrive in the upcoming year.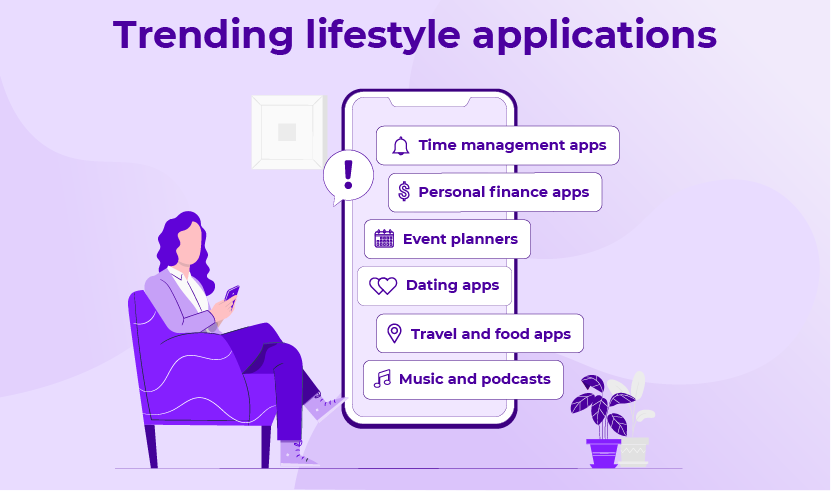 To-do and time management apps
So much to do, so little time. Digitizing your work and personal tasks, you get a structured day presented on your screen and recommendations from an AI-driven app on how to enhance the quality of your life and prioritize tasks without ruining your work-life balance.
Basically, this is the financial literacy specialist in your pocket. These apps allow you to track your income and expenses, highlight the areas where you might overspend, and provide insights on how to save more money without drastic changes to your current lifestyle if needed.
A planner is a go-to solution both for personal and professional use. For instance, as a wedding coordinator or event organizer, you can make the most out of the app by making it your essential work tool. And, using it for your private life, you can plan all the vacations, family events, and other meetings.
There is no need to introduce this one. Dating apps are at their peak, and many start-ups are trying to find new ways of finding love interests, targeting diverse audiences, and finding their uniqueness to stand out in the market, ruled by a few big brand names.
Personalized travel and/or food content for people who want to be everything up to their expectations – numerous reviews, place recommendations, and various top lists of everything – from the best cheeseburgers in New York to the most famous castles in England.
Music and podcast applications adopt AI and machine learning to be closer to their users, suggest the most relevant content, and respond to modern tendencies while providing a listener with a unique selection of tracks or podcasts that fit their tastes.
We reviewed 5 mobile app trends in 2023, forecasted by PieSoft's team of IT experts. Whether you're already thinking about developing a trendy app for your business or having no clue what solution would work for your company the most – PieSoft is here to assist you in dealing with any challenges. Our mobile app development specialists examine your requirements, analyze them, and suggest innovative technology-driven solutions that meet your needs and fit current trends. Contact our custom success manager to build a custom mobile app solution and boost your success with software development company PieSoft.