What is an enterprise web application? Your key to the perfectly optimized internal and external processes. Whether you run a small business or a large corporation, conducting operations through the old software and Excel documents can be exhausting and quite non-effective compared to the new flexible technologies. Robust and scalable enterprise web applications with an outstanding UX/UI design are essential for your business to succeed in the modern world. At PieSoft, we have been building tailor-made web apps on Java and PHP for ten years and know a lot about the high-quality development that boosts your workflow and lays the foundation for your growth. In this article, we will dive into some tech details and review the examples of services you can get to digitize your company!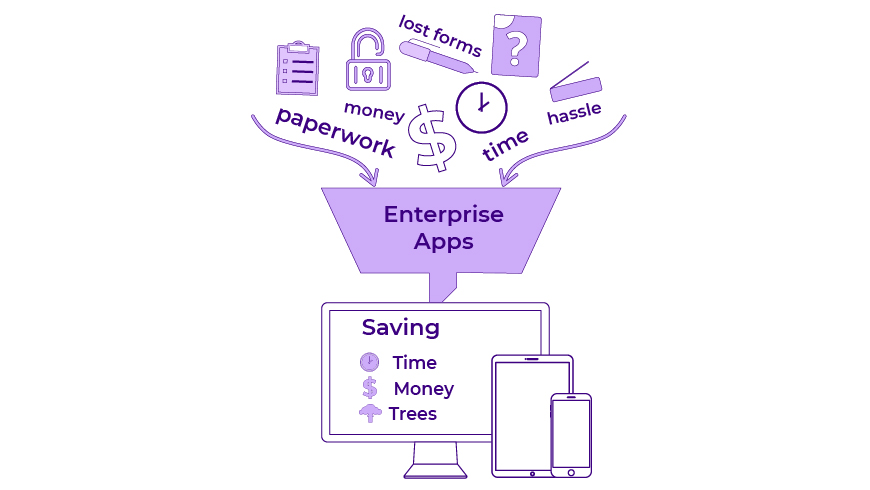 What is an enterprise web application?
Enterprise web application is a collective word for various systems that keep your business running in terms of marketing, customer relationships, analytics, accounting, and security – any area where your concerns need to be covered. Enterprise web application examples vary from the internal-oriented systems to the external-focused apps that interact with your customers and support your brand. Depending on your industry and the specifics of your business type, you can establish the core asset, human resource and content planning management, build your business intelligence, ensure sales force automation and payment processing, create interactive catalogs, increase the security control, and even more.
Thus, drawing on the needs we need to meet, we choose a specific tech stack for each case, most frequently sticking to our favorites – Java and PHP technologies.
Java enterprise web application
Want to get a secure app that operates through various platforms, expands however you want, and can be swiftly upgraded? Java enterprise web application is your go-to option. It provides high scalability, rich functionality, and compatibility on any system.
PHP enterprise web application
Think about a solid platform-independent solution with a high pace of dynamics and strong connections to robust databases? PHP enterprise web application might be your best choice. PHP technology allows the apps to operate fast and secure, appropriately protecting you from vulnerabilities and cyber attacks. We build Java and PHP enterprise web apps on cloud and on-premise for desktops and mobile devices – anything for your efficiency and high-level security.
Having become familiar with the idea and purpose, let us proceed to the topic we're eager to tell you about – how we can assist you in creating top enterprise web applications to skyrocket your business!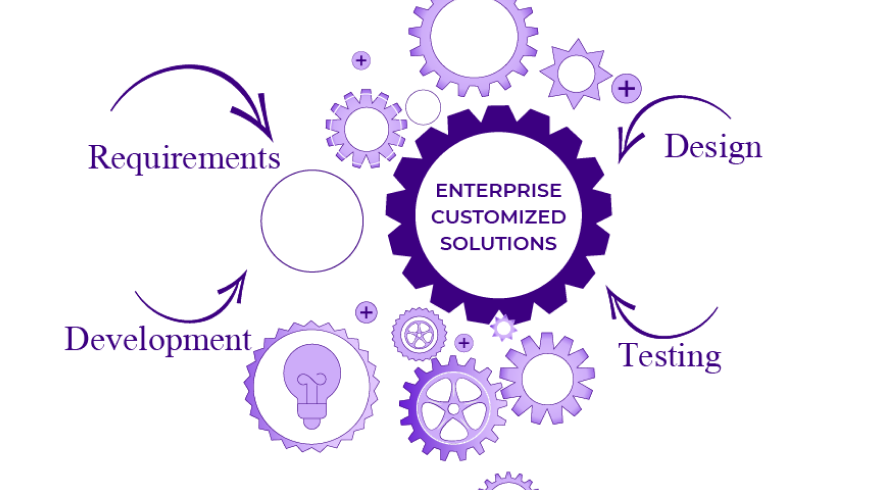 How PieSoft can help you
Start your enterprise web application development from scratch
One of the substantive services we provide is building your application from the ground up. Primarily, we establish our path from the initial thought to the final vision. If you have specific requirements for your future app or have concerns you want to resolve – bring them to the table! We will gladly implement your ideas and complete them with best practices and extensive experience.
Thoroughly examining your business needs, domain specifics, and requirements, our team engineers the solution that targets and eliminates all the issues that prompted you to think about the need to build an enterprise web application. When your workflow challenges are too complex while the technical solutions to fix them are non-obvious, we involve our professional business analysts to collect requirements and write detailed specifications that will get you to your goals. By addressing a specific problem to us, you can be sure that we build an enterprise web application exactly the way you need it at this stage. Without redundant features, functions, and extra stretch to scope and terms of the development process – PieSoft ensures you only clarity, quality, and integrity.
Collaborating with us, you can consider PieSoft as your reliable technological partner. Together we explore the possibilities and find the technically efficient and creative concept for your company's challenges.
Acknowledge the importance of your business infrastructure
Enterprise web application development gears you towards a digital transformation. Launching the enterprise web application development, we seamlessly consider all your ecosystems to embed the app as an essential workflow component. Thus, we assure you that the initial integration stage will go smoothly. The proper coordination between the new application and your existing tech solutions helps your company handle the changes without financial losses and management failures.
If you feel like your current infrastructure might need to be enhanced – we can take care of it. Engineering from scratch is a thorough long-term process, but the effort will be richly awarded. According to numerous surveys, companies with a thought-out business infrastructure dramatically boost their profits, increase employee productivity, and establish better positions in the market.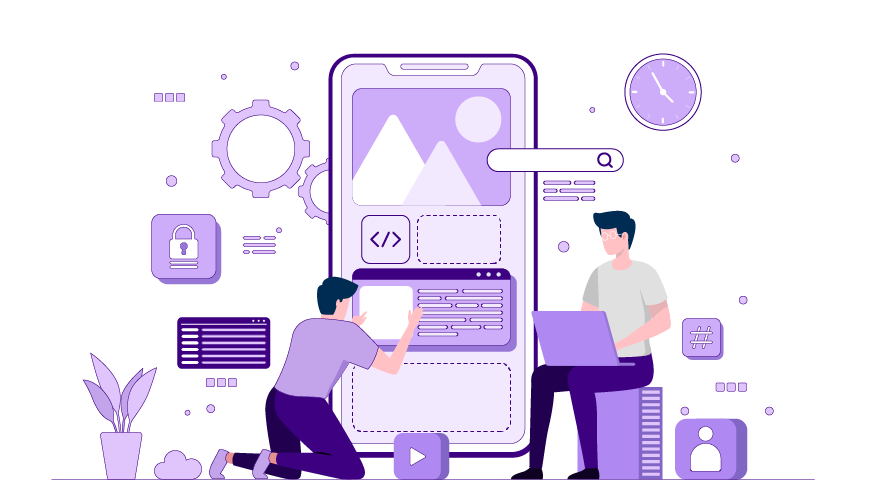 Improve your legacy system
Outdated but crucial applications can be a significant stumbling block for your business. Weak security, old platforms, lack of scalability, functionality, or data exchange capabilities – the list goes on and on when it comes to the legacy systems. Eliminating them from your business workflow is non-effective and quite costly, considering a prolonged downtime. The best options you can go with are legacy improvement, modernization, and integration. Based on your requirements, we research the most innovative approaches and technologies to enhance your systems and, if needed, re-platform and rebuild them.
Therefore, your company will not experience enormous transformations and financial turbulence. Instead, your employees and customers will enjoy the seamless and high-quality upgrades without shaking the familiar routine. Except for the back-end technologies, legacy systems may lack the modern and user-friendly design. Cooperating with our web experts, you can create convenient enterprise web application UI design to bring your business to a new level, attract more customers, and remain relevant.
Enterprise web applications are your conductor of growth and efficiency, while their well-established security is the foundation of your comfort. Build an enterprise web application with PieSoft to pave the way toward success.