The hero of today's story is our client, Raphaël Willet, the Stratflag and Flag-IT founder. Our marketing specialist, Marina, talked to him to find out how he came up with the ideas, why he chose PieSoft as his technological partner, and what he thinks about the marketing trends of 2022.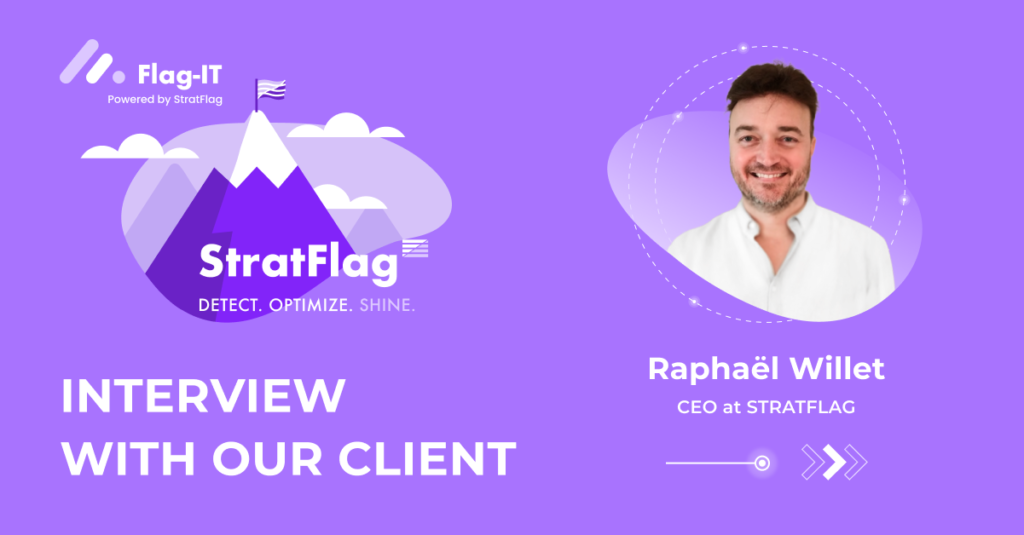 Marina: Hi Raphaël! Thank you for taking the time to talk with us. We are really glad to see you here. Let's get to the conversation, shall we?
Raphaël: Hi Marina! It's really good to see you too. Yeah, let's do this!
M: We know you have been a performance marketing specialist for almost a quarter of a century. How did you come up with the idea of building your own app to help businesses extend their digital potency?
R: Having been a performance marketing manager for 20 years, it has been my broad experience that prompted me to create an app that will be a helpful tool for other digital performance experts. Discussing the same issues with my clients repeatedly throughout my career, I realized the market needs a comprehensive yet straightforward instrument to help manage SEO (Search Engine Optimization – ed.) and SEA (Search Engine Advertising – ed.) on one platform. And most important to note, I wanted to build a user-friendly tool whereby the user, after basic training, could attain the platform's full potential. To achieve this, I decided to think twice about the app's features because the more you expand its functionality, the more challenging it is to manage the app. It's getting expensive, and you'll simply not have good control of your tool. So, my goal with Stratflag was to offer it as an approach that allows you to dive into different-level details, according to your marketing needs. And I believe we succeeded—Stratflag provides visibility to technical aspects of SEO and SEA while keeping user-friendly interfaces and a coherent structure.
M: Absolutely, we need more "simplicity over complexity" kinds of solutions. So, why did you decide to combine SEO and SEA on one platform? Why do you think it's important to manage them together?
R: That is an excellent question, Marina. The main focus is about the approach. As mentioned before, I wanted my platform to present as an approach that frees up customers from marketing details. And although I wonder why I didn't have this vision earlier, I'm glad I eventually came up with this idea. When I was busy with SEO for around 10 years, I also began to work with paid campaigns. And SEO only ensures more organic growth, so, basically, you need to invest in your SEO-optimized content (content containing keywords that allow people to find your website on the search engines – ed.). But with SEA, you need to invest resources in advertising, analyze the outcomes, and still work on the keywords. And this is the vision of most web agencies in the world because they understand the specifics. But this approach is not the right fit for the final customer.
Let's take for example, a client approached the marketing performance specialist with the main goal of boosting the visibility on search engines such as Google. For this client, the visibility is not SEO or SEA; it's simply the desire for visibility on Google. So why do we need to split them? The same keywords are used in both cases. The client is happy when he gets results and sees his company drawn to the top positions of various search engines. The client's budget is the same, so when you ask, "Do you prefer to work on SEO, SEA, or both?" It's not his concern. The customer's goal is to get more leads, more conversions, and increased visibility. Therefore, the separation to which I am speaking about is really not necessary; there are better ways of working. And when I realized that the ideal way of working is to manage all the semantics on the same platform, I came up with my own solution, Stratflag. In other words, my strategy was to bring visibility and help customers have a complete view, making the most out of two primary sources — SEO and SEA.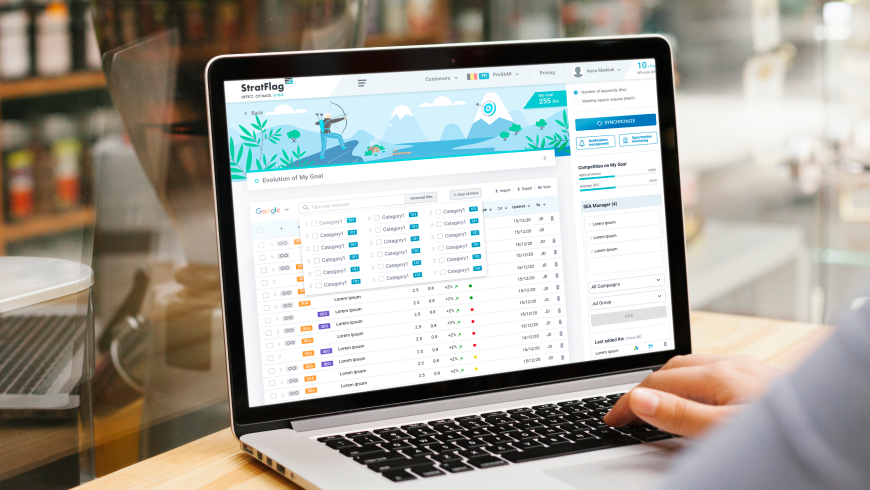 M: As a marketing specialist, I can definitely say that it sounds great; thank you for your detailed explanation! So, tell me, when you shaped the concept, you started looking for specialists to implement it. In the review you wrote about us on Clutch, you mentioned that you already had several estimates of your project from different development companies when PieSoft reached you. What made you wait for our estimate to be presented, and why did you choose the PieSoft team to collaborate with?
R: Yes, Marina, it was quite a journey until I found PieSoft! We requested quotes from several companies, and, in the end, we had only three fitting options.
The first company we tried to work with was a large Belgian development company, whose first impression wasn't great because of their approach. Right away, they said how expensive my project would be, and it wasn't a great way to start a potential collaboration such as this. Nevertheless, when we discussed the specialists, it turned out they didn't have enough resources, such as available front-end and back-end developers. And they hesitated to take on this project because it was complex and time-consuming. So, as you can see, it didn't work out for many reasons.
The second company we contacted was a South Asian company whose approach was, "We can do it. We can do everything." But they provided no practical strategy, and I needed to see their proven expertise and technological knowledge. So, I've sent my technical briefing and received feedback and some code but without a quote. They provided neither structure nor an estimation, and it was hard for me to envision results. Although their prices were good, I couldn't trust them and therefore didn't consider this option.
Then, last, Piesoft reached me. I instantly became interested because your specialists thoroughly checked my briefing, identified all the features, and estimated the project very well. Also, they have suggested various alternatives and specified milestones—even more than I expected or anticipated. So, at first, I was impressed by your specialists' technical background and determination, and later on, it was proven during our collaboration. Everybody can say, "We can do it," but if we invest in long-term work, we need to be sure that tech knowledge will not be an issue. And, of course, it was important for me to establish a good relationship with a development company. Because, you know, when you begin to work on a project that will last for two years minimum, it's crucial to collaborate with reliable people who you can trust. When I spoke with your business analysts and managers, who are always available and proactive, I knew it was the right fit for me. Because working with people on your start-up is like giving the keys to your house, and it can't be just anybody.
M: Thank you for your kind words, Raphaël! And did you ever consider working with freelance developers? Why did you decide to cooperate with the software development company instead of independent developers?
R: Yes, I did consider working with freelancers. But I realized that for such a complex custom development like my project, we'd need to collaborate with too many individual freelancers to cover a wide range of different competencies. For me, freelance is more suitable when you need specific expertise for a short-term project. In that case, having technical support represented by a freelance professional is excellent. But freelance is not an option when building a start-up. With needing to design thousands of features and complete countless back-end and front-end tasks—it would be too much supervision that I prefer to avoid. Working with a team managed within their company is much more convenient, which is also a reason why I chose to work with PieSoft. I knew I could rely on your specialists and get a comprehensive approach to Stratflag development without overseeing all the processes by myself. Again, it's about the relationship and trust we've been able to build over the years.
M: So, when you say the relationship is crucial for you, does it come from a human-to-human interaction model? Most agencies talk about B2B or B2C business, but what about human-to-human? Is this approach suitable for you and your business?
R: If we speak about Stratflag, the human-to-human model is the right one. It is essential because when you work on semantic marketing and build a strategy for a client, you have many discussions and meetings to fully understand their needs.
And since the customer doesn't care about the details and wants the best visibility within his budget, you need to approach your relationship as a human-to-human model, thereby giving the client the best results so he'll be satisfied with your collaboration. But if we talk about a product like Flag-IT (marketing solution powered by Stratflag, currently in the development stage – ed.), this product is based on a win-win. And for a win-win approach, I find the B2B model is the most practical one.
M: And what about our relationship? Which approach prevails in the collaboration between you and PieSoft?
R: Human-to-human, absolutely. Because you don't sell a specific product, you sell your services. You are determined to help your client and always very reactive, no matter the challenge. For example, when the application is down, even if it's Saturday, I text about the issue and always receive immediate feedback, such as, "Raphaël, we already reported it to the DevOps. If it's urgent, we can resolve it now, or it can wait for Monday, it's up to you." The support and proactive approach you provide are really valuable to me. I also appreciate that you don't try to increase the number of features to expand the project for your benefit. You engage in my values and goals to offer solutions that will cover my needs without any unnecessary additions. When I suggest excessive features, your developers analyze them. If it's not practical, they can advise me to reconsider it, explaining that it'll add up costs but will not fundamentally change the functionality. Or, if I pay too much for the server, they help me to store my heavy resources correctly and cut the costs as much as possible. And I value that you genuinely care about my interests and have a broad knowledge to have a helicopter view and are able to control the process comprehensively.
M: It's a pleasure to hear that we're doing a good job! Can you call PieSoft your technology partner in achieving your goal — building an effective app and changing the performance marketing industry for the better?
R: Yes, I truly feel that the PieSoft team is my team. You're always available and proactive and extensively know my business. When I go to your managers, they always find the solutions I need. Whether a minor task or a complex challenge that can't be resolved quickly, you explore the best options of what can be done, ensuring that the development process is under control. So, to answer your question, I do trust PieSoft as my technological partner in my start-up development.
M: Thank you, Raphaël! And what are the values of your career path and work in general? That is, the values that you established for yourself and seek in your partners.
R: The main value I seek in partners is trust. It's the most important point upon which everything else is based. And I'm glad I surrounded myself with people I can fully trust, with an always available and reactive team. Because when building a start-up, it's vital to know that you're not alone and to work on ideas with other experts. You guys at PieSoft have healthy working relationships, and it's critical for me to invest money in a great company that cares about people. Looking for a development company, I often saw pyramidal systems where specialists didn't matter. And I knew building solid and trustworthy relationships in those conditions was impossible—people can't be creative, motivated, and engaged when they're not treated like human beings. So, I'm happy to collaborate with a company where every specialist matters.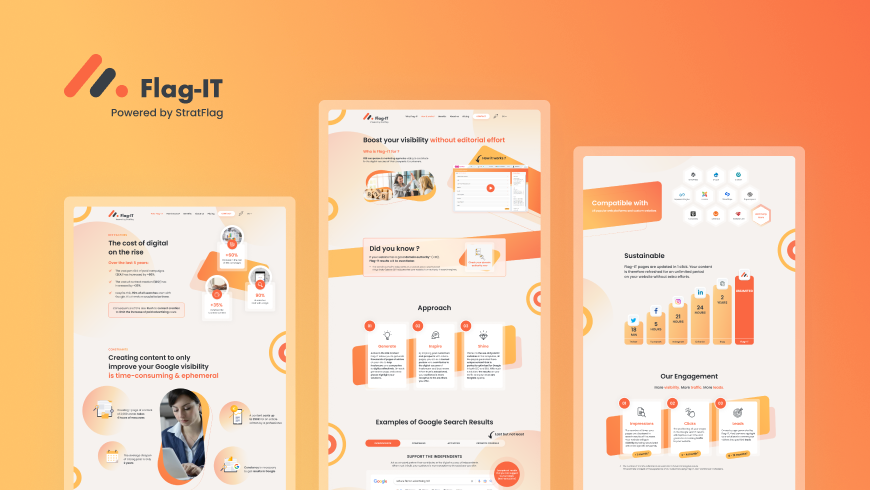 M: Great, thank you for sharing this feedback! Except for your approaches, we also would love the chance to shoot you a question as a marketing expert. What, in your opinion, are the main marketing trends of 2022? Can your new product – Flag-IT – be one of next year's trends?
R: I think the primary trend of 2022 is artificial intelligence (AI). We see it everywhere, and tech entrepreneurs love implementing AI into their products since it now takes up a huge part of the market. Still, AI can add unnecessary complexity to the product, so I'm not a big fan when trends are enforced without any actual purpose. Building AI-driven products takes a great deal of knowledge and tech expertise. And I believe it's essential to think twice and oversee your project entirely to decide whether it's worth integrating these trendy technologies into your product. The other massive tendency, in my opinion, is creating everything less time-consuming—no code projects and complete automatization of everything. And my new product, Flag-IT, is exactly a solution for spending less time on content creation, so I suppose it'll fit into the following year's trends perfectly.
M: Please tell us more about Flag-IT—how does it work, and how does one apply it to improve digital performance?
R: Flag-IT is a standalone solution but also a trigger for Strat Flag. Why? Because Strat Flag is an approach, combining the tool and our services to create a comprehensive digital performance strategy that improves SEO and SEA. With Flag-IT, it's different because it is a product. After we provide you with a 2-hour workshop, you're good to go and can generate a page of expert-level, SEO-optimized content quickly. Usually, it takes you 4 hours to create the 2000 words article. With Flag-IT, you can do it in only 15 seconds. That's quite a new solution for the market that anyone can easily use—web agencies, B2B companies — anyone worldwide. And our product is international, generating texts in eight languages in 192 countries.
M: Oh, you know, it sounds so impressive! Because it will save so much time, free up our workflows, and solve a major problem of lacking copywriters. I know that you've been working on Flag-IT for about six months. At what stage are you currently with the designers and developers?
R: We are now busy with the promotional website. Together with PieSoft's designers, we work on the web representation that will clearly represent the value and opportunities my product ensures. With Flag-IT, you boost your google visibility without editorial effort, and it gives you really good results very fast. I can't say more for the moment 🙂
M: Thank you, Raphaël! Can't wait to get an opportunity to try using Flag-IT. Sounds exciting! Thank you very much for such a fantastic conversation; you're a great speaker.
R: Thank you too, Marina! Stay tuned for the Flag-IT release in 2023!