A professional website significantly influences your business's success by enhancing credibility and empowering your brand image. To efficiently represent your company in the digital world, you should first focus on setting up a new website developed from scratch or re-engineering the existing one up to modern standards. For any venture, an affordable website that requires simple maintenance services is one of the most critical investments for standing out in the crowded market. Today we review the four most common types of websites applicable for any size of business – from small start-ups to large enterprises – and examine some approaches to make the most out of your online presence.
Types of business websites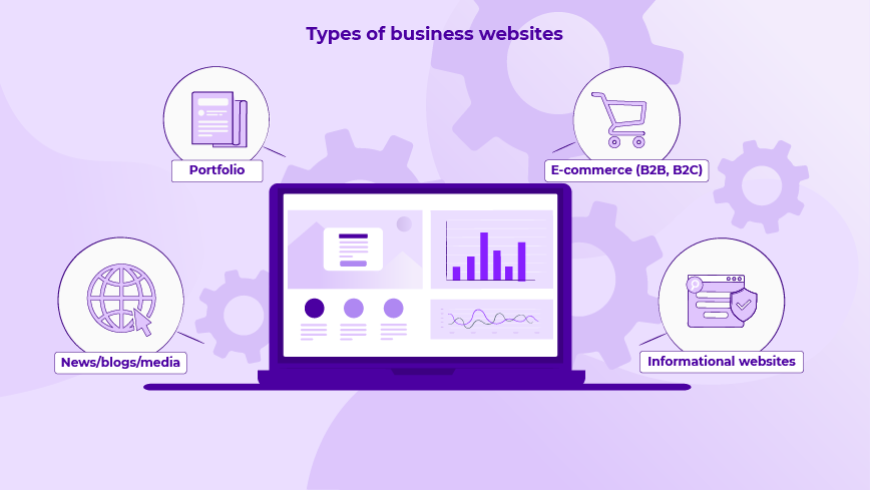 Portfolio website
Your website is one of the first things your potential partners and clients look at to decide whether it's worth collaborating with you or not. If you sell services, a portfolio site is a key to making your company visible and building your identity. Focus on your advantages, choose your top projects – and create an outstanding business website design to gain partners' trust. An online portfolio is effective for solo entrepreneurs and owners of large firms who want to gather their expertise in one place and attract future clients by introducing them to the company's mission and the value they bring.
News/blogs
A professional business website with regularly updated content is a specific web solution requiring a clear structure, seamless backend, and robust API to interact with other social media or internet channels. Whether it's written- or photo- and video content, the main goal of these sites is to drive users' interest and engage them in the product/solution/ideas you share. News or blog websites are the endless resource companies use to remain close to their clients and promote their vision, thus enhancing the entire brand image online and offline.
E-commerce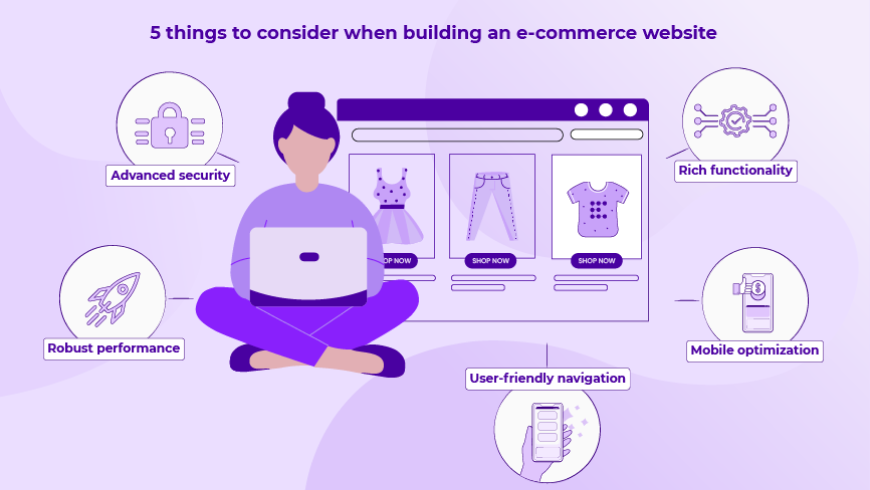 Electronic commerce is the most popular option for business website development for any venture whose main target is to sell. B2B and B2C online sales are full of opportunities for companies of any size and industry – you can include numerous features, ensuring your clients with extensive functionality and establishing simple business website integration into your analytical, reporting, and other operational systems. To succeed in creating such a holistic and complicated web solution, consider implementing the following most crucial recommendations.
5 things to keep in mind before starting an e-commerce business website development
E-commerce is a solution that combines features of a website and a web portal. Entering the account, your customers leave their most private information – from their address to banking account number. To guarantee your site corresponds to the security regulations and policies of your country/state, collaborate only with certified IT development companies and provide the highest security level for your clients.
Loading your business website with many product pages and personalization options can drastically affect its performance. Avoid this by assuring your site is scalable and flexible to changes to carry out large amounts of data.
The critical reason e-commerce becomes more successful than offline sales is its adaptiveness and personalization. With business analytics and developers, you can figure out the most suitable features and tools for your new business website and attract more customers by being attentive to everyone.
Top-class UI/UX is vital in sales. It helps you to stand out in the large market and make customers want to visit your web pages more than once, increasing their chances of purchasing. Work with the experts to ensure high-quality business website design that visualizes your uniqueness and allows clients to navigate the site easily.
Mobile commerce is accelerating year by year, progressively increasing its impact on the online market. According to Insider Intelligence, m-commerce sales will reach 42.9% of all e-commerce sales in 2024. Thus, it becomes evident that every e-commerce enterprise should focus on adaptive development that ensures visibility for all the users of various mobile devices or tablets.
Setting up a business website for sales is a challenging path that requires vast experience and multiple IT skills. With PieSoft, you can begin this journey efficiently and take all the tech worries off your shoulders. Check out our article about five reasons to start an e-commerce business website development – and consider cooperating with us to skyrocket your sales venture.
Informational website
Informational business websites are efficient for companies operating in the education and entertainment industries. Depending on the concept, this web solution can overlap web portal features so your users can access the personalized functionality and interact with the platform comprehensively, exchanging files and browsing specific materials. Due to the popularity of interactive content, informational platforms are highly used in the popular edutainment area. The educational projects that combine articles and lectures with games and engaging audio and video materials establish themselves as more successful learning resources for online users. For informational sites, it is essential to build a well-thought-out structure of materials and intuitive navigation understandable at first glance for any user.
As we've already mentioned, all the above types of sites are equally relevant to enterprises of any size. However, there are particularities for start-ups or small firms – their affordable business website design has to remain flexible, dynamic, and highly efficient. If you strive to get customers' attention and achieve maximum profits at the lowest cost – consider these three factors when starting your small business website development.
3 essentials to incorporate into your small business website design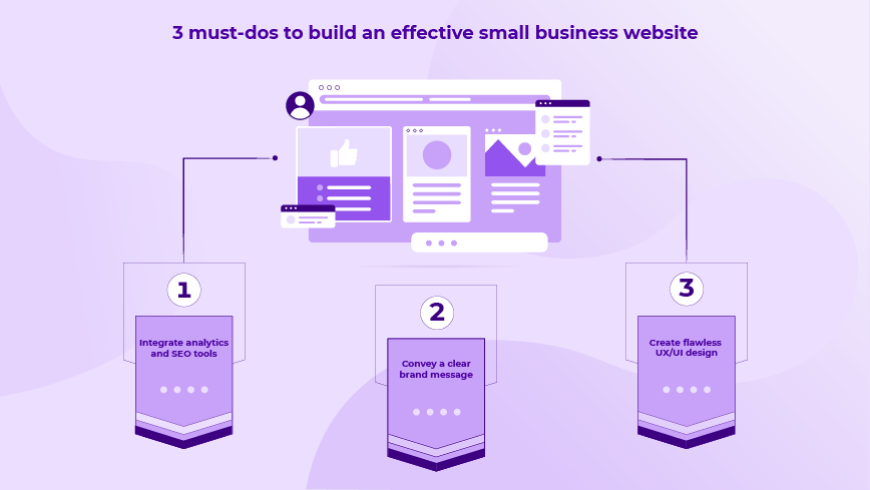 Integrating various analytical, marketing, and management tools is crucial to get a comprehensive image of the site's performance. At the start, when you are testing the waters and trying to identify your online target audience more precisely, it is decisive to obtain regular statistics on visits, interactions, and other user activity. In accordance with the received indicators, you will be able to get your site to its highest capacity level much quicker.
Make your business visible right from the start. The accurate representation of your values and mission ​​allows you to build a loyal audience base that shares your ideas and will support your business in the long run. Collaborate with professional marketers and business analysts to make your website reflect your brand image clearly – from text and visual elements to unique functionality.
When meeting a new player in the market, the user doesn't tend to turn a blind eye to flaws. Although small business website maintenance involves modifications and evolution of strategies, the companies that make a good first impression with a high-quality UI/UX design increase their credibility and get more engagement. Up-to-date, user-friendly, and responsive design is a big part of your online success.
Reviewing the four main types of business websites, we looked closer at e-commerce – the most complex one in design – and gave some recommendations for small businesses. Relying on PieSoft's vast expertise, you can set up any website efficiently and profitably. We help you analyze the current market situation, draw attention to your professional strengths, and take care of all IT development and maintenance issues in creating your new affordable web solution.