Vasili Pispanen, the Head of PieSoft Java Team, reveals why Java still has a long and bright life ahead and why it is important to be a good engineer.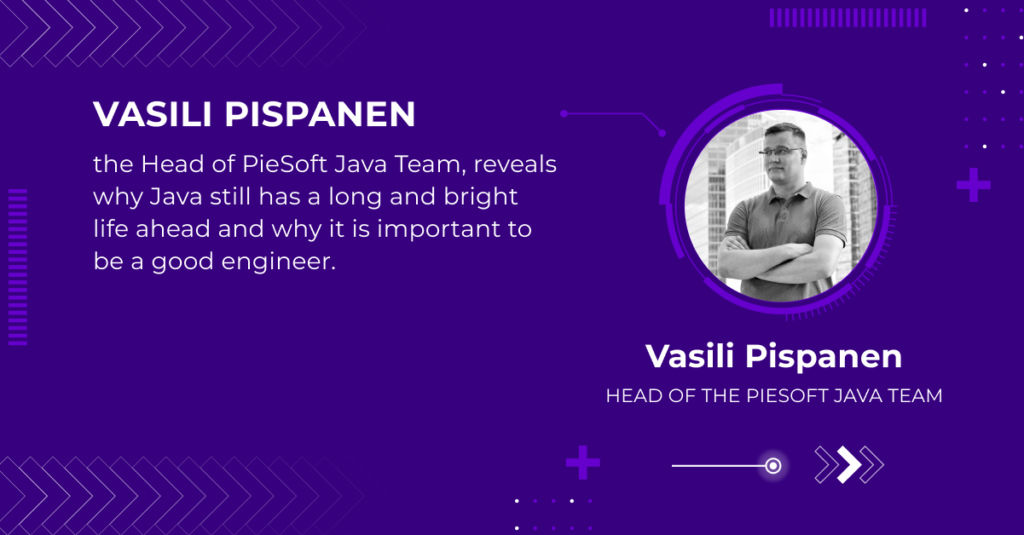 – What is the strength of the Java department in the PieSoft developer company?
Vasili: Perhaps, it is a very big expertise; our guys have worked on a wide variety of projects in health, fintech, logistics, agriculture, and real estate fields. Such a cheerful variety. Of course, our specialists are also trained in related areas. We are mainly focused on small and medium-sized businesses. Our developers are able to confidently address client requests at reasonable rates. Price–quality ratio is another strong point of PieSoft experts.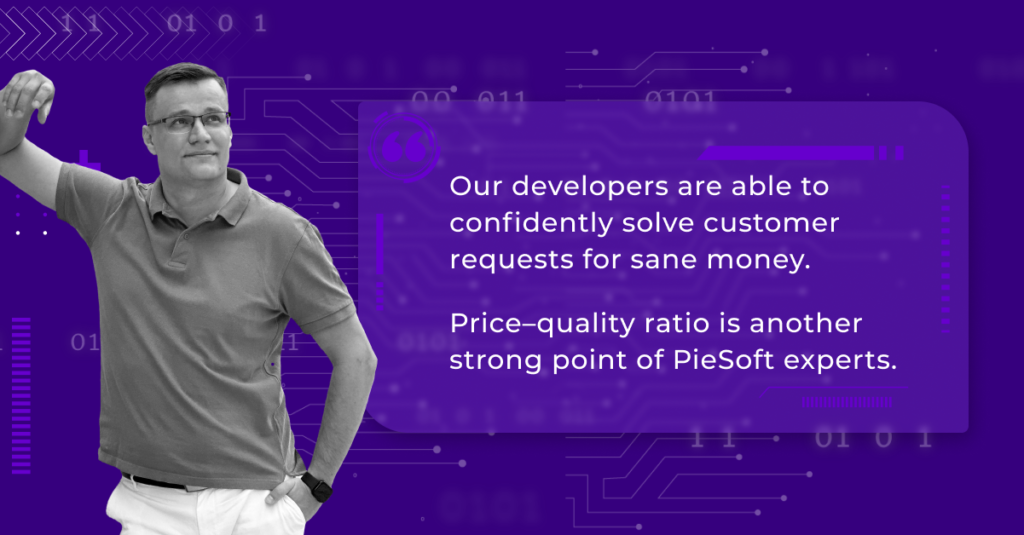 – What are your relations with the PHP department? Is it possible to coexist peacefully, given the well-known confrontation between PHP and Java in the IT sphere?
Vasili: I think this battle is just a good reason to smile 😆, not a real confrontation. Of course, we can make fun of each other, but at PieSoft we all do the same business. This is never a conflict or a dispute, but the solution of issues in a healthy and adequate way. Landing pages and websites for small businesses are not written in Java. PHP works perfectly here, both faster and budget-friendly. At the same time, larger projects with a load and global scaling are usually built with the help of Java. This is considered at the initial stages of the project, so there is no confrontation; the interests of the client are always the priority for PieSoft.
– What do you think about all the speculations that Java will soon cease to exist?
Vasili: I love such statements. I have been hearing them since I started working with this language, and that was 11 years ago. Maybe 11 years ago these words had more sense than now. Oracle, the owner and developer of Java, is very scrupulous about its brainchild and is constantly developing it. New versions are released every six months. Yes, there is usually nothing revolutionary, but the Java platform and ecosystem are getting better and better – and that pleases. The base of the language was laid in the noughties, and even the nineties, and there is no way to fix it, but I don't see any special problems with this. PHP, for example, is also an elderly language and it has its own issues, but they are not critical for good developers.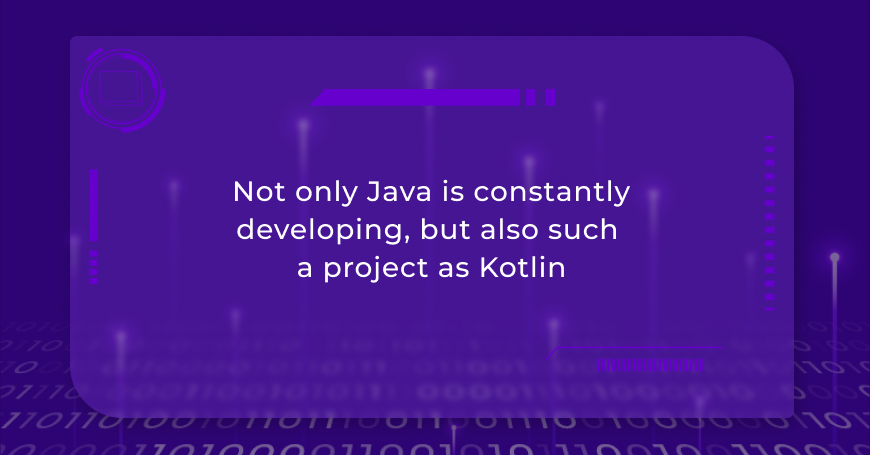 Not only Java is constantly developing, but also such a project as Kotlin, I really like it and perhaps in the future we will migrate to it. Java and Kotlin are two co-existing platforms, and that's fine. Will Kotlin kill Java? 😆 No, they will embrace and go together into a wonderful future.
– What is the beauty of Java?
Vasili: Java has a very mature ecosystem. Let me explain in plain language: no matter what kind of extraordinary project you have in mind, Java will most likely already have a suitable library for it, and usually far more than one. So, for any of your most non-standard requests, you will get a database with good solutions and handy tools. Additionally, Java has excellent compatibility. If you take a solution written ten years ago and run it into a modern system, then apparently it will continue to work perfectly.
– Should Java developers have any special qualities?
Vasili: I think not. Their strengths are the same as those of other software developers. They must be good engineers first of all. It does not matter what language you use. The so-called T-shaped specialist is ideal. That one has deep expertise in some language and basic or average knowledge in related fields. It is great when, in addition to technical qualities, a person has brilliant communication skills, then he is universal. To solve the client's requests, it is important to be able to talk well and find a common language. But, again, this is ideal. The concept of a developer is more voluminous than that of a programmer. A developer finds a way out of a problem and knows how to explain to the client why we are going this way, and not another.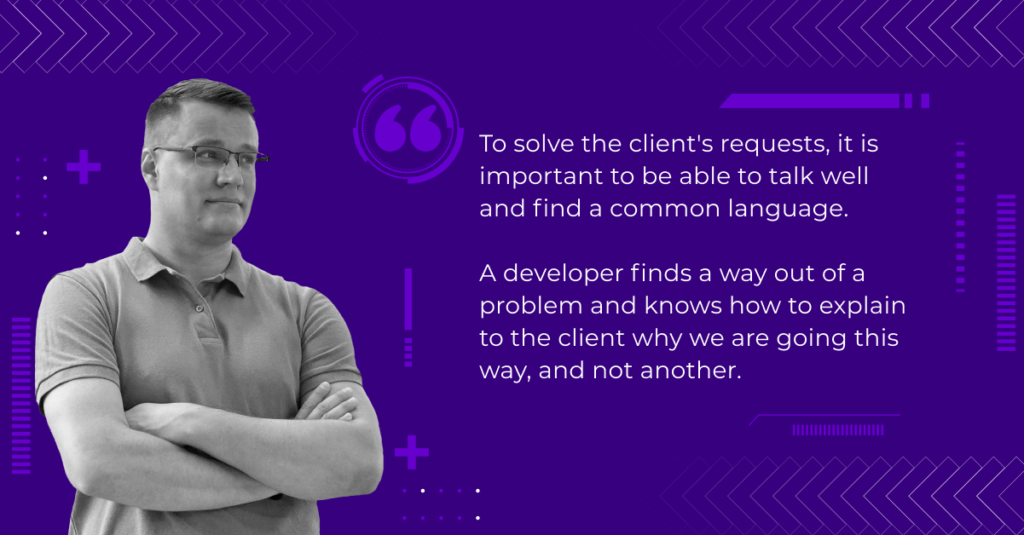 – How do you feel about the craze for AI?
Vasili: Balanced. Humanity, in principle, likes to hype. Once there was a blockchain on the cutting edge, now this is ChatGPT. This too shall pass😆. On the other hand, blockchain and NFT remain in our lives even after excessive enthusiasm has gone; they are simply involved in narrower areas. I am happy with GPT-4, I know what things it will tell me better than Google. Yet I am convinced that AI will not replace IT developers and other related specialties in the near future.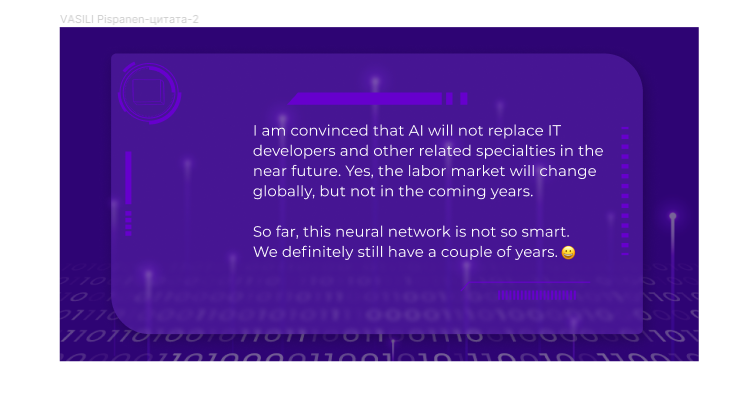 Yes, the labor market will change globally, but not in the coming years. So far, this neural network is not so smart. We definitely still have a couple of years😆. AI needs to be constantly improved and trained, and this requires a huge human resource. When talking to a neural network, you always need to specify in detail what you want to get in response. While a person does not always manage to establish a conversation even with another person! It's like communication between a developer and a client – the main thing is to find common ground. PieSoft specialists nail it, which is hard to say about AI.
In conclusion, Vasili Pispanen's insights highlight the enduring strength of Java, the collaborative spirit within PieSoft, and the ongoing significance of skilled engineers in shaping the future of software development.