Pure Architecture and IT Expertise at PieSoft: Aligning Technology with Key Business Goals
At PieSoft, we recognize the unique responsibilities a software architect holds in the IT sector. These include managing the present scope of a project and proactively anticipating future developments. A software architect must diligently plan every detail, ensuring the long-term sustainability of the site or application, and crucially focusing on realizing the key business goals of the project.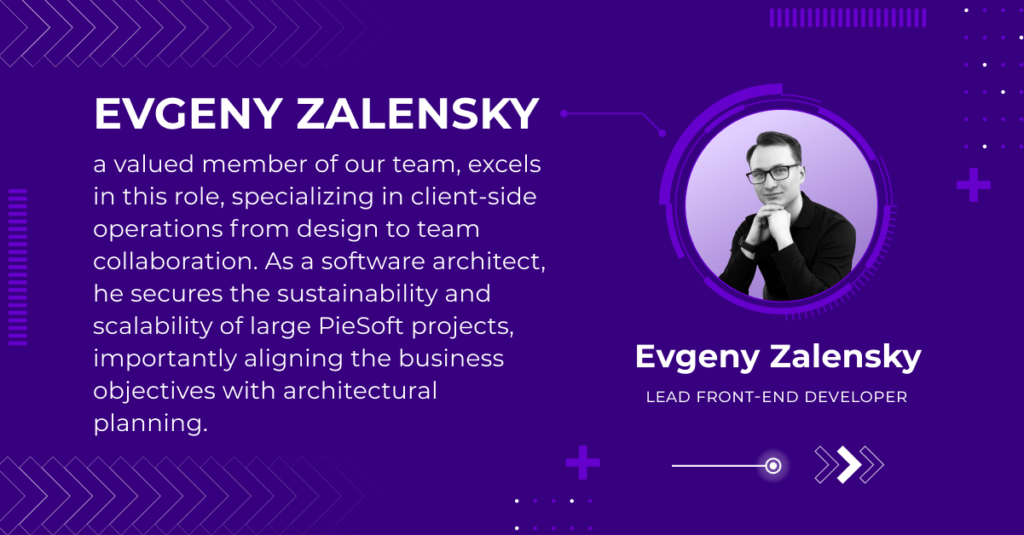 Customer consensus is another core value at PieSoft. We appreciate the weight of our reputation and the influence our word has on our clients. We ensure every decision is thoroughly explained to our clients in a language they understand, emphasizing how it aligns with their business objectives. Furthermore, we understand the importance of listening to and comprehending a client's perspective.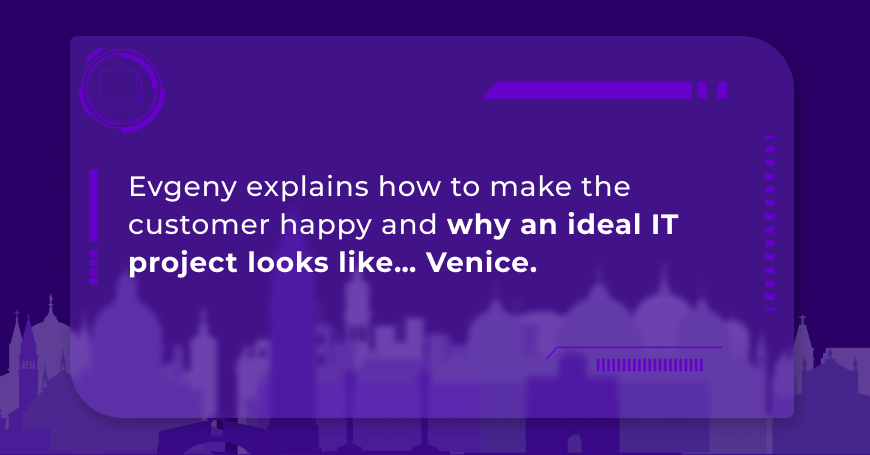 The software architect position is quite rare in IT companies. How do you explain this: not every project needs an expert of such a level?
Evgeny: This position is really special. Not every developer will agree to play this role, because in this case, too much responsibility falls on their shoulders – an architect is engaged both in the present and in the future of the project.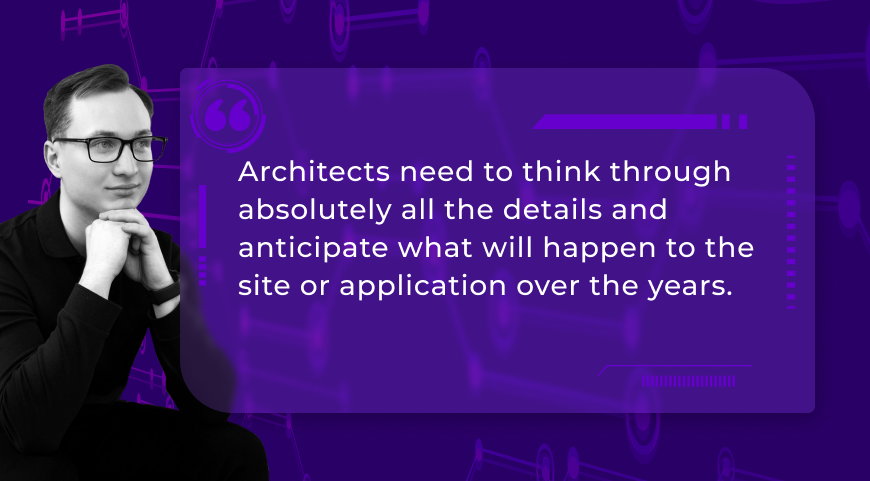 This role has many subspecies: there is an application architect, a database architect, etc. I personally deal with the client side, from design to interaction within the front-end development team. I look at everything in terms of the code and recommend that, for example, we will take this technology, and thus we will save time and win in the next sprint. The software architect manages both development and resources. They ensure that in two quarters, the decision will not go sideways, and the client will not have to redo everything. Of course, an architect is needed mainly for large projects, not for a small webpage.
How did you become an architect?
Evgeny: In total, I have been in development for more than five years. Three and a half of them are in the front end, which is not so much according to the industry standards. I started with mobile development on game engines. Then I was engaged in the design and 3D modeling. I wrote the code and thought through the interaction inside the engine. Then I moved into development.
Probably, this is explained by the fact that you are a civil architect by education, you graduated from an Architecture and Civil Engineering College.
Evgeny: Definitely (laughs). For my thesis, I designed a five-star hotel complex and a 75-hectare park adjacent to it. I needed to think over the smallest details: where people would go, what they would do, and whether it would be convenient for them to be in this space.

One more of your unexpected hobbies is car design…
Evgeny: Since the age of 7, I have been going to Italy, a country where everyone thinks creatively, and where everything is very well designed, including cars. I adored cars and painted their models. At the age of 16, I visited the Ferrari factory with my relatives, the head of the company saw my work and highly appreciated it, but that was the end of the story because at that time I had not even finished school yet.
How did it happen that you ended up in IT?
Evgeny: After getting my degree in engineering, I quickly realized that the maximum I would do in the coming years was to repaint old buildings. I went to work at the refinery as an engineer, where I was often invited to the general contractor's meetings. I easily found common ground with customers. At the same time, I became interested in IT. I could go to a café for a cup of coffee and convince the owners that they needed a website. Finally, it became my life's work.
According to your experience, what are the most important qualities of a software architect?
Evgeny: It is important to be able to defend your point of view to anyone: be it a minister or a very fastidious customer.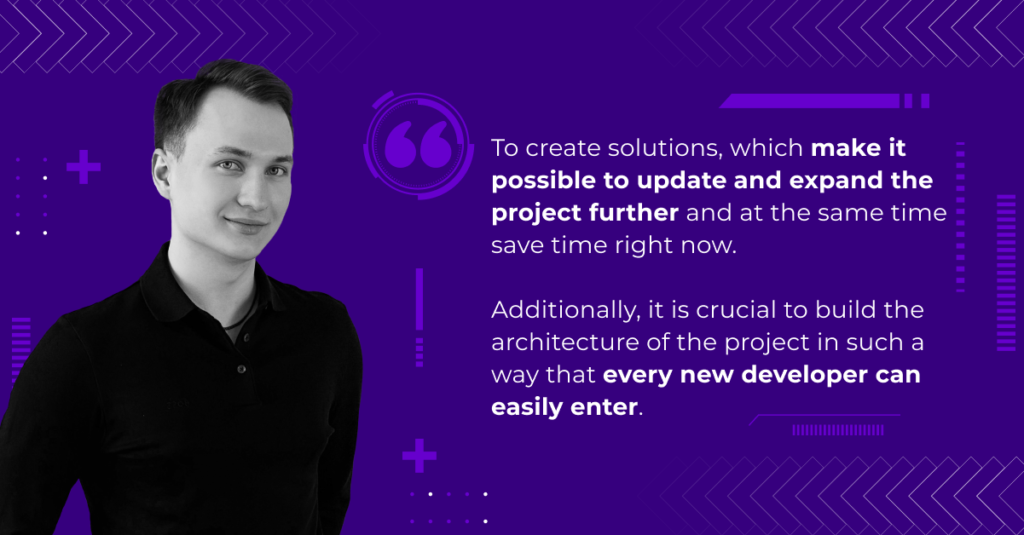 An architect also needs to monitor constantly that the IT structure does not collapse. It is like constructing a project building. A good architect knows how to link several projects into one. You need to be able to foresee the future to complement, and not start from scratch. So you save time. In case of incorrect planning, the team loses time, and therefore money.
Can you compare an IT project with any well-known building?
Evgeny: With the whole city – Venice! This is such an unusual place where every inch of land, every building, and the very platform on which the town stands is unique. And you can feel there like all the objects are linked. It is not just a wrapper, but a multi-level system. This is the kind of website I would like to manage.
Does PieSoft team know the secret of how to make a customer happy?
Evgeny: My mother told me as a child: first, you work for your reputation, and then it works for you. When the company has a status, your word means a lot to the customer. PieSoft architects always will explain to you why this or other thing is good or bad, and how to fix it. There is a golden rule: if you criticize, then offer an alternative. It is also very important not only to talk but also to listen. Each customer has their point of view, and understanding it is half of success. I can confess, I am even disappointed if a client agrees immediately. The truth is born in a discussion and the discussion is a reasonable dispute. The most challenging thing is to work with someone who doesn't know what they want. When developing a project, we always describe to a client what they will get and lose with this or that decision. Probably, that is why we get such cool projects.